How big is a Boa Constrictor? To find out, you need to learn about the difference in size between the species and sexes of these snakes…
Last updated on February 1st, 2023 at 09:32 am
Boa Constrictors (Boa constrictor), also known as Red Tail Boas, are generally between 5 and 8 feet long (1.5-2.4m) as adults, with females being larger than males. Occasionally, very large females can reach 12 feet (3.5m), but this is unusual. Common Boas (Boa imperator) are much smaller, at 3-8ft (1-2.4m).
Boa Constrictor weight
One thing you'll know if you've kept snakes is that their weight increases almost exponentially as they get longer. This is especially true of heavy-bodied species, like those in the Boa complex. By this I mean any species whose scientific name starts with "Boa".
Their girth and weight also tend to increase as they mature, with older animals being stockier and heavier than younger ones of a similar length.
For example, I can personally remember handling an 8ft long Red Tail Boa that weighed 26lbs (12kg), and a 7ft long one that weighed only 15lbs (7kg). There was nothing wrong with either of these animals. However, the 7ft long snake was younger and still growing at a fast pace.
Unfortunately, I sold it (you can't keep them all) so I don't know how big it eventually got. Once it reached 8 or 9ft, though, its growth would have slowed down and it would have gotten just as heavy as the other one.
If you want to know how much your Boa will weigh, the main thing to consider is the species. There are three species, which we'll discuss in a moment, but the largest is by far the True Red Tail Boa (Boa constrictor). These snakes can achieve lengths of up to 12 feet, and weights of as much as 90 to 100lbs (45kg), though 25 to 60lbs (12-27kg) is more common.
The other two species are smaller and a lot lighter. Check out the table at the end of this section for a rough guide.
Male Boa Constrictor weight
Whichever species you choose, females are almost always longer and heavier than males. Sometimes by as much as 50%!
The reason for this is simple really. Boas have a lot of babies in one go – anywhere from a dozen to over 40. Females need a bigger body to accommodate these large litters, and more fat reserves to provision them with. This is the direct cause of their larger size when compared with males.
You may notice a similar pattern of sexual size dimorphism in other snake species. In fact, Ball Pythons, Hognose Snakes, and Garter Snakes, all have larger females than males.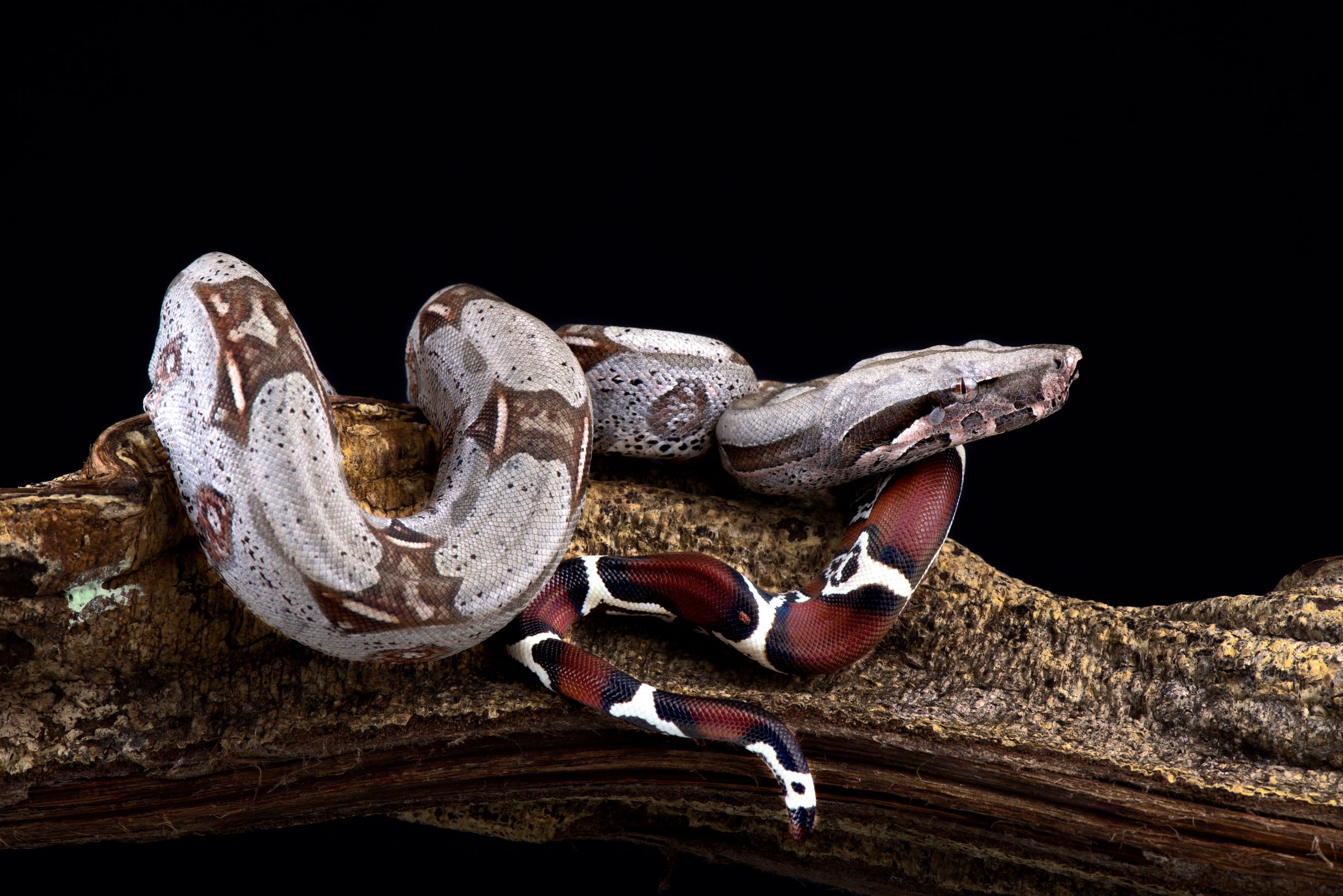 Boa Constrictor weight chart
Remember that these weights are highly variable – these are broad guidelines only!
| | | |
| --- | --- | --- |
| Species | Male | Female |
| Red Tail Boa (Boa constrictor) | 15 to 40lbs (7-18kg) | 25 to 60lbs (12-27kg) |
| Common Boa (Boa imperator) | 10 to 20lbs (4.5-9kg) | 18 to 33lbs (8-15kg) |
| Sonoran Bao (Boa sigma) | 10-20% lighter than Common Boas | 10-20% lighter than Common Boas |
Boa Constrictor Size in feet
As you may have guessed from the weight table above, Boa Constrictors also vary greatly in length according to their species.
They're all tough, hardy survivors, but some habitats just allow for animals to reach a larger size. Red Tail Boas grow the largest, coming from rich, densely forested tropical areas where they have had room to evolve into very large snakes.
Sonoran Boas, on the other hand, live in the Sonoran Desert biotope. Out there, food, water and hiding places are all scarce. The result is – rather unsurprisingly – that they are the smallest species of Boa so far recognised.
| | | |
| --- | --- | --- |
| Species: | Male size: | Female size: |
| Common Boa (Boa imperator) | 3 to 6ft (1 to 1.8m) | 4 to 8ft (1.2 to 2.4m) |
| Sonoran Boa (Boa sigma) | roughly 4ft (1.2m) | up to 6ft (1.8m) |
| Red Tail Boa (Boa constrictor) | up to 8ft (2.4m) | up to 13ft (3.9m) |
How big do pet Boa Constrictors get?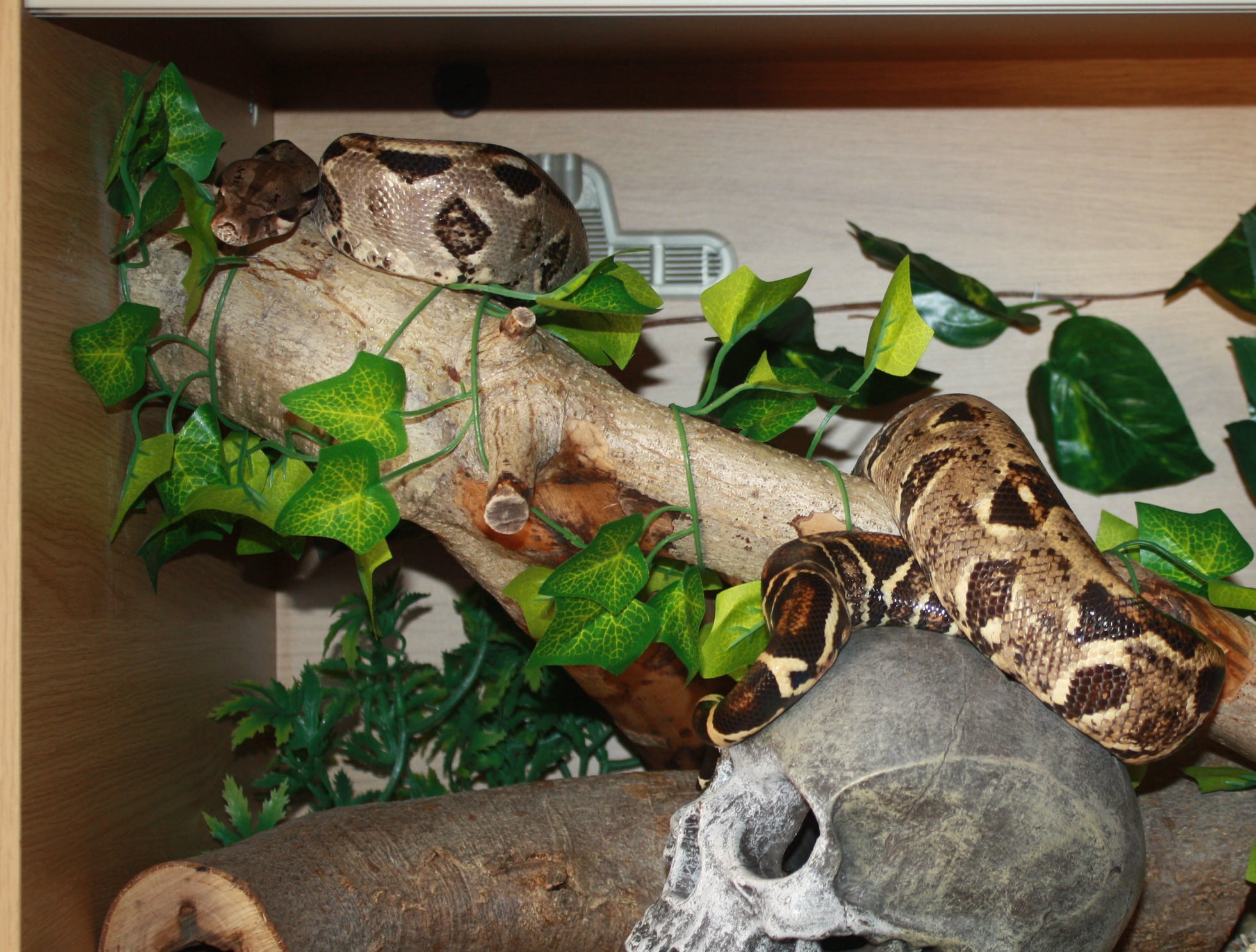 Pet Boa Constrictors reach similar lengths to their wild counterparts, probably because length is a polygenic trait. Several genes regulate polygenic traits, making them hard to influence by food and conditions alone. (You can read more about them in my article on Ball Python size).
When it comes to weight, however, pet Boa Constrictors definitely have the edge. They are almost always heavier than wild Boas, sometimes by a large margin.
This is mainly because captive snakes have a steady supply of food delivered directly to them. They don't have to hunt for it, or occasionally go months without an appropriately sized meal.
Surprisingly, even snakes that live in tropical rainforest don't eat as often as you might think. In these extremely diverse habitats, many prey species actually occur at lower population densities because they have a greater number of similar species to compete with.
This deceptively low food abundance is reflected by the fact that Red Tail Boas tend to have a slower metabolism and need less food than the Common Boa.
What you must remember when keeping any of these species is that they are all prone to obesity in captivity. Many of the chunky-looking pet boas that you see online or even in pet shops are slightly obese, and this is why they weigh more than their wild cousins.
If you keep a Boa, its body shape should resemble a square loaf of bread – if it starts to bulge at the sides, you know it's getting overweight and it's time to start feeding it less often.
Types of Boa Constrictor
So, by now you probably know that what we often call "Boa Constrictors" are in fact three distinct species: the Red Tail Boa (Boa constrictor), the Common Boa (Boa imperator) and the Sonoran Boa (Boa sigma).
Previously, we thought that these were all simply members of one species, but detailed morphological and genetic analysis has revealed enough evidence to separate them. You can read more about this in the following article: Phylogeographic and population genetic analyses reveal multiple species of Boa and independent origins of insular dwarfism.
In the pet hobby, or herpetoculture as it is more correctly called, we rarely talk about the Sonoran Boa. This website is no exception, and the reason for this is simply that it is much less common in captivity.
At this point, it may take another ten years for captive bred Sonoran Boas to become widely available.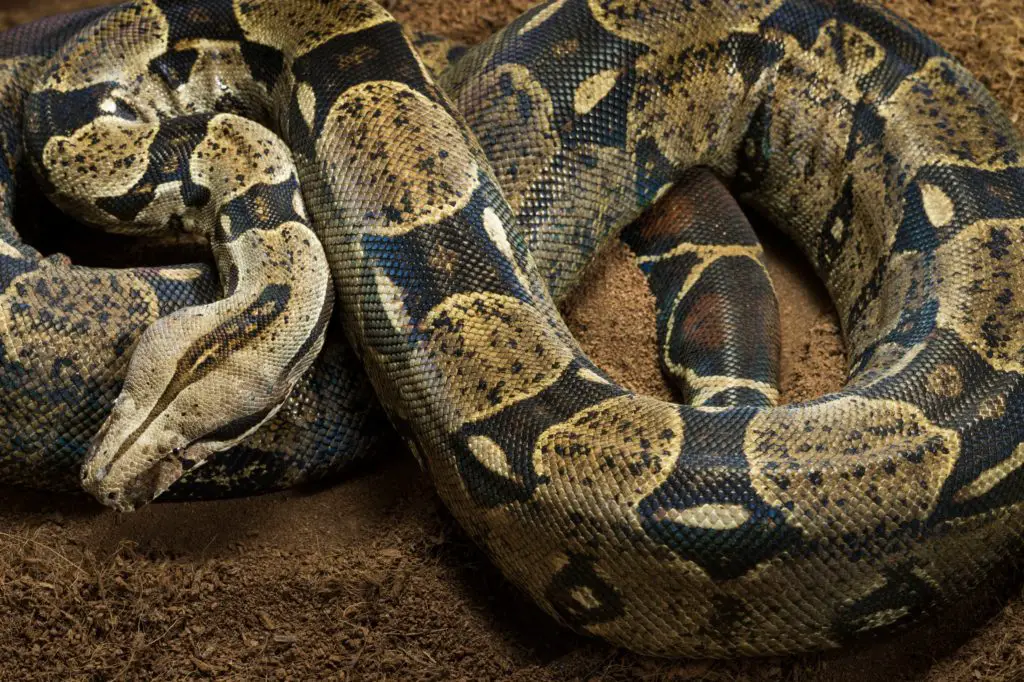 What does a Boa Constrictor eat?
In the wild, Boas of all species have a general preference for warm-blooded prey, that is to say birds and mammals. Nonetheless, they do occasionally snack on reptiles too, with reptiles making up about a third of their food intake in most regions. Overall, their diet appears to be extremely varied.
One scientific observation, that you can read here, even recorded a Common Boa eating a small wild cat known as a Jaguarundi.
Take a look at the list below, it contains some of the other items that wild Boas have been observed eating:
Rodents (including Spiny Rats and Cavies)
Parrots
Raptors (birds of prey)
Passerine birds (songbirds)
Green Iguanas
Purus Red Howler Monkey
White-eared Opossum (Didelphis albiventris)
Black-and-white Tegu (Salvator merianae)
In captivity, Boas are fed rats, and occasionally small chickens, guinea pigs or rabbits. Despite this much less varied diet, they still manage to get fat if you don't keep an eye on them! (You can read more about feeding them in our Boa Constrictor husbandry guide if you need to).
There's a couple of reasons captive Boas get fatter on this less diverse regimen: food abundance (how often they eat) and parasites. In the wild they eat less often and carry intestinal parasites – meaning that they still retain less nutrients from their diet than pet boas.
This is why captive Boas often get heavier than wild ones. And though they don't necessary get much longer, than look much more massive than those that have not been raised in captivity.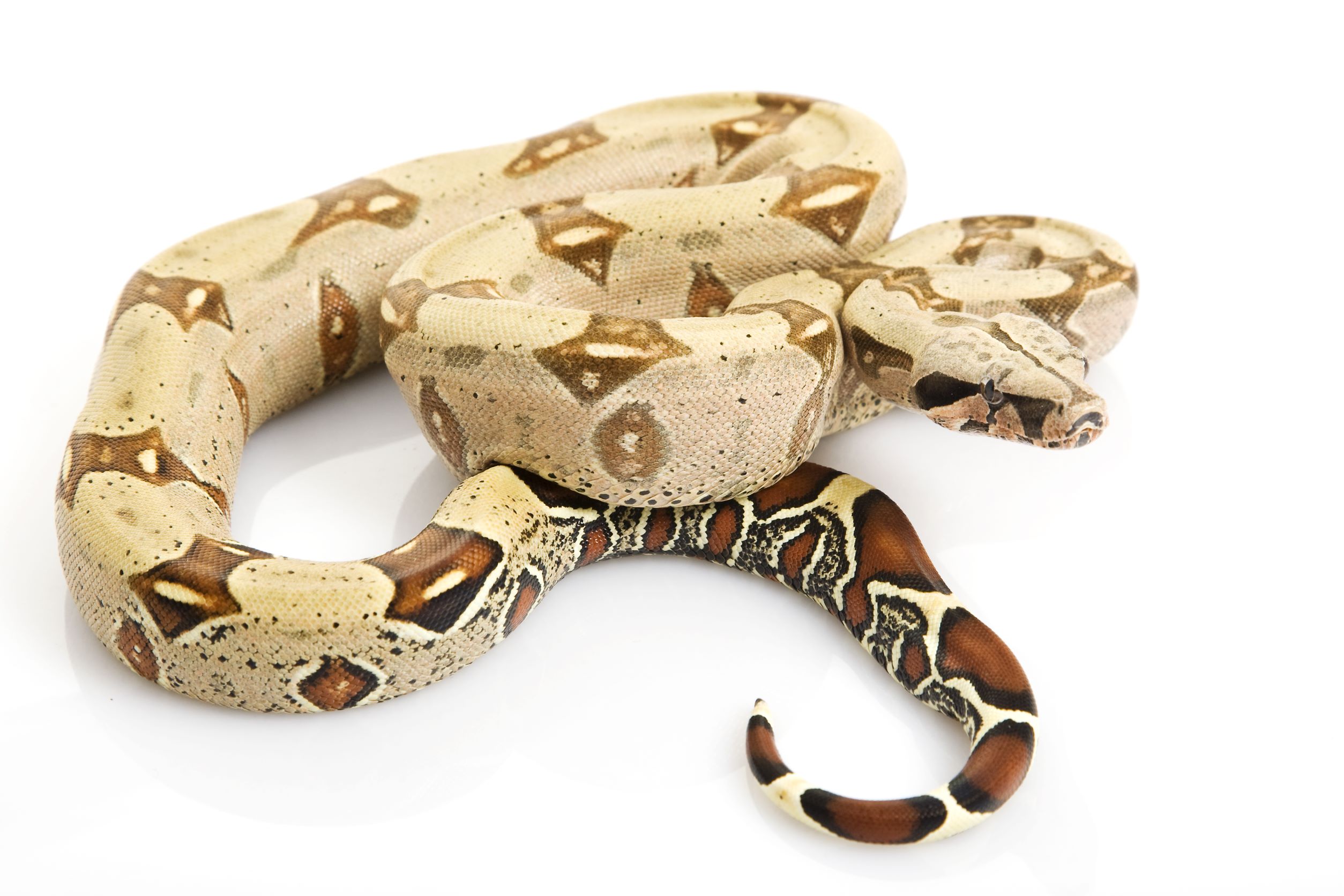 Boa Constrictor fun facts and FAQs
Where do Boa Constrictors live?
When you combine the ranges of all three species, Boas have one of the largest distributions of any reptile species complex in the Americas. They can be found from Northern Mexico to central Argentina, a distribution area larger than the whole of Europe.
What was the largest Boa Constrictor ever found?
The records of the longest Boa are controversial to say the least. It was previously claimed that an 18ft Red Tail Boa (Boa constrictor) was killed in Trinidad. Years later, this claim was rubbished, and the new record went to a fourteen-foot-long specimen found in Suriname, though even this claim is hard to prove.
What we know for certain, is that several Red Tail Boas from Suriname and Peru have been recorded at lengths between thirteen and thirteen and a half feet in length.
Do Boa Constrictors lay eggs?
Boa Constrictors do not lay eggs. They are live-bearing snakes, which can give birth to anywhere from a dozen to over forty babies. This has a couple of advantages for them. First, it means they do not need to find a suitable place to lay eggs. Secondly, it means they can reproduce whether the weather is humid enough for egg incubation or not.
Other resources related to Boa Constrictors: